The phases of chess games have been already set long time ago. The endgames, no dispute, have been elaborated by many authors on sevaral examples (e.g. J.Averbach: Chess Endgames) or others. One of the first pioneers who began to examine the deterministic approach of the endgames, how games finish, how to reach the goal in the quickest time was Eugen Nalimov. At the beginning he analyzed 3-4-5 pieces board and later on added the 6 pieces (-6 men including the kings).
The basic information about his work and tablebases can be found at : http://en.wikipedia.org/wiki/Tablebase with many sub-links and supportive articles.
The authors of openingmaster.com have collected all Nalimov's endgames 3-4-5 but also all 6 endgames. See http://kirill-kryukov.com/chess/tablebases-online/ .
It is a respectful number of 295 6-men endgames in 2,512 files totaling 1,232 Tera-bytes. There are several professional articles examining how much one should actually own at his local hard drive or disk in order to be efficient. Several players prefer to have all endgames (100% coverage) with of course high peak time of loading the program for indexing the endgames yet some claim to need only 200-300 MB of these endgames. (but with coverage more than 90%). The catastrophic scenario comes when one needs the endgame but doesn't have it loaded on the hard disk. The downloading of any endgame from the Internet is very time consuming and patient work with knowledge of the best resources to look for.
Download with the link below entire 295 endgames summary excel sheet with frequency statistics.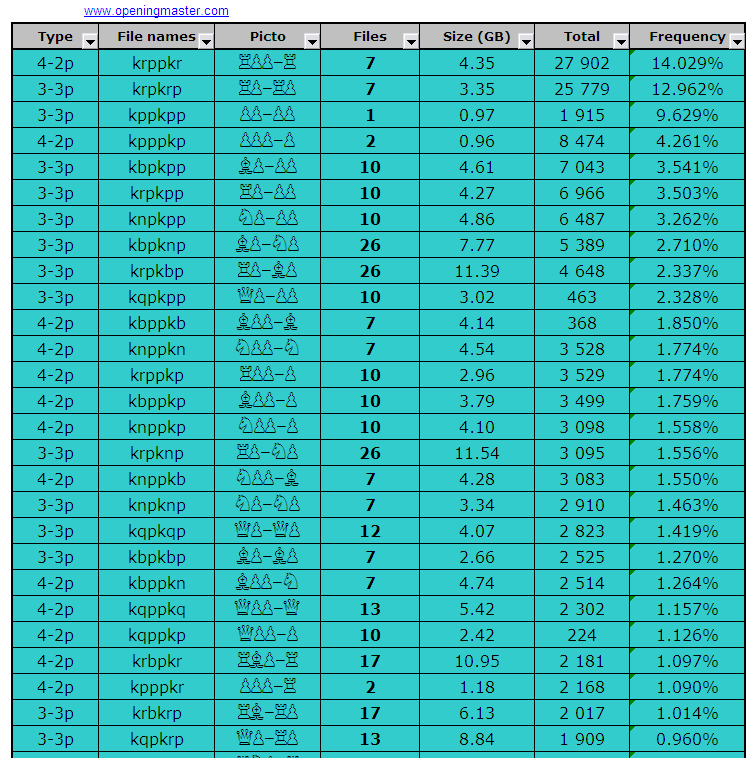 tablebase.xls


1) Cost of shipment - 25 EUR
2) Uploading of data - 100 EUR
3) New HDD (e.g. WD, Hitachi, Samsung) with global warranty and upload data there - 150 EUR (you can also send us your HDD)
4) We will send you the detailed calculation plan and agree on the matter of shipment and payment (we accept all major credit cards and also PayPal transfers)
If you are interested please send us your short request to our email address or contact us via contact form and we will contact you back very shortly.